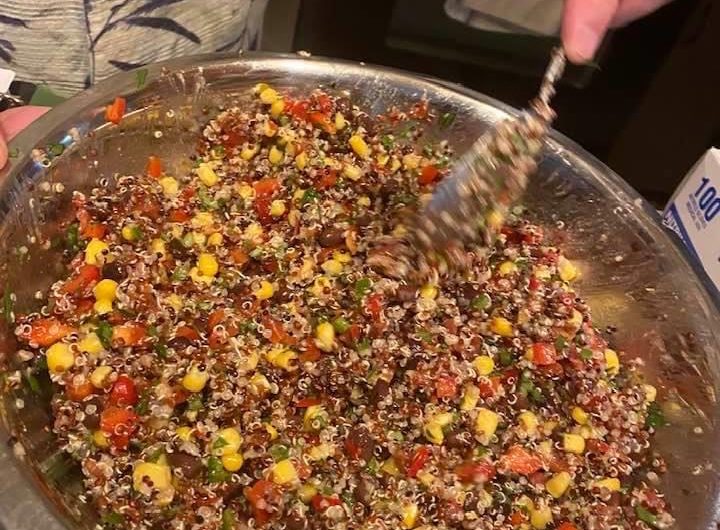 Tired of the cost of the WF version, and unsatisfied with online recipes I tried, I crafted up this one. The date on the original copy in my recipe book is 2016-07-14.
Yield is about 8 cups. This scales well, so long as you have a large enough mixing bowl.
Print
Ingredients
2 cups quinoa, cooked and cooled to room temperature

1 can (15 oz) black beans, drained and rinsed

2 cups frozen corn

1 red bell pepper, small dice

1 can (15 oz) roasted tomatoes, drained, rinsed, finely chopped

1 or 2 jalapeño peppers, small dice

small bunch of cilantro, finely chopped

1 1/2 tsp ground cumin

3 oz olive oil

juice from 1 lime

1/2 tsp salt
Print
Directions
Cooking and cooling the quinoa takes most of the preparation time. I use an ice bath to drop the temp quickly.

Prep the rest of the ingredients while you're waiting. Be sure to drain the beans and chopped tomatoes well to avoid water in the salad.
When the cooked quinoa gets down to room temp, mix everything in a large bowl. The frozen corn will cool it all enough to eat immediately, but it's best to cool in the refrigerator a couple of hours.